a method to better understand what triggers the purchase process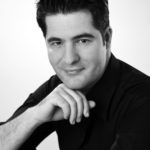 Stefan Lendi, author and inventor of the PsychoMarketing method
Stefan Lendi is a marketing professional and creator of the PsychoMarketing method based in Switzerland. He has created reference platforms and assisted several colleagues in developing their activities. He is the author, in particular of PsychoMarketing: Win and retain even more customers! ". He was head of marketing in several companies, including Nestlé, IBM, Danone and Nespresso.
They stand at the origin of the PsychoMarketing method. Can you explain to us what it consists of and who exactly it is aimed at?
PsychoMarketing (or psychomarketing) is based on cerebral activity (of the prospect, the customer) and uses actions to trigger a sequence of psychological states that lead to a marketing outcome. The ultimate goal: to generate numbers of satisfied and returning customers, namely ambassadors.
PsychoMarketing is a methodology aimed at both experienced marketers and entrepreneurs or traders with no marketing experience. It applies to any organization addressing people. It is therefore not intended for a specific type of company, organization size, geographic area or sector of activity, but can be customized in each case.
What are the advantages of PsychoMarketing? Why should companies incorporate it into their strategy?
Marketing essentially consists of attracting customers: it is based on acquisition. Because attracting customers is expensive, marketing budgets are often viewed as a cost, and rightly so.
PsychoMarketing rehabilitates customer loyalty. It focuses on creating ambassadors that make it easier to acquire new customers by reducing customer acquisition costs and increasing the productivity of marketing investments. Marketing expenses then become investments.
In order to achieve this, it is necessary to rehabilitate theHuman and create a relationship of authenticity and goodwill before, during and especially after the transaction.
On what scientific criteria is this method based?
PsychoMarketing is based on techniques that have been tried and tested in science and practice in order to win, convince and retain customers. The methodology combines, among other things, behavioral sciences, cognitive neurosciences, influence and persuasion techniques, direct marketing, digital marketing, neuromarketing, hypnosis, neurolinguistic programming (NLP) or transactional analysis.
In particular, we draw on the behavioral sciences to understand what motivates people and how to trigger psychological states that lead to purchase. So my book psychomarketingfor example, based on more than 70 scientific references, mainly social experiments.
But that's not all. To understand theHuman, it is necessary to understand how the brain works. In order to better understand the mechanisms of attention, perception, memory, decision-making, motivation and action, PsychoMarketing relies on the latest neuroscientist findings on brain function. A marketer who knows how the brain works will create more effective messages and communications.
How does this method stand out from others and enable companies to achieve their goals more effectively?
For example, other marketing methods state that you must first draw a portrait of the prospect you are targeting. Which is not wrong. Yet we marketers have biases, cognitive biases, and limiting beliefs. Before you study your ideal prospect, you need to start with yourself as well. Theorem of Socrates " Recognize yourself " makes sense. In PsychoMarketing, therefore, we begin with our introspection: identifying our cognitive distortions, our false beliefs, in order to understand our customer and the market in a much more objective, empathetic and psychic way.
Another example: we know that it costs up to 5 times more to refer a new customer than to keep an existing one. And in marketing we often talk about retention. But if you have to "keep" a customer, it's because the job hasn't been done well, because a happy customer won't want to leave!
For this reason, PsychoMarketing rehabilitates loyalty and creates a benevolent experience before and during the relationship through a " spiral of values ​​and beliefs ". This psychomarketing spiral aims to offer so much value to the prospect that in the end he convinces himself that we are the right choice. And it works de facto a barrier to entry that kills competition.
What indicators should be considered to measure the performance of a PsychoMarketing-based strategy?
The Value and Belief Spiral involves 7 steps designed to trigger a sequence of psychological states in the prospect to bring them closer to the desired marketing outcome. The 7 steps are as follows:
the bias,
Attraction,
The transformation,
commitment,
Enticement,
the transaction
and repetition.
Each level has its desired temperature (the higher it is, the greater the willingness to buy) and there are measuring devices for each level. They are varied, we can mention in particular: audience size, spontaneous/assisted awareness, opt-ins (registrations) and opt-outs (attrition rate), open rates, engagement, cart additions, transaction size, Net Promoter Score ( NPS) or Customer Lifetime Value.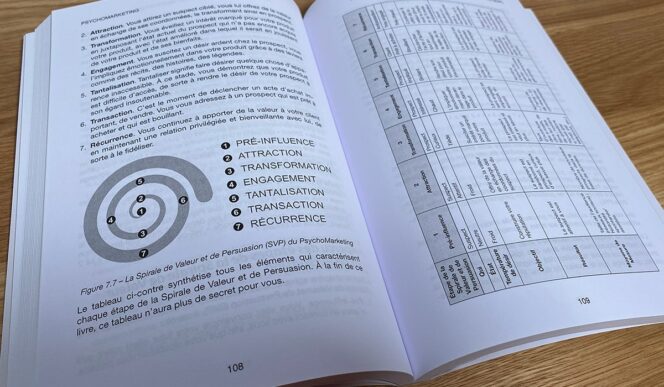 Do you have an example of a successful PsychoMarketing strategy? What was the need, the levers were activated and with what results?
The book details the Nespresso case, in particular the ability of this brand to create a unique experience and a long-term relationship thanks to its club, with the success we know. There is also the Glassdoor case, which mixes B2B and B2C and manages to add value to both an employer and a candidate.
In addition, many DNVBs (Digital Native Vertical Brand, brands that originated from the digital and operate vertically) apply psychomarketing in whole or in part. Such is the case of DollarShaveClub.com, which was sold to the Unilever group in 2016 for $1 billion.
What advice would you recommend to companies looking to implement a PsychoMarketing strategy to increase sales and retain their customers?
After learning about the PsychoMarketing methodology, it would be a matter of conducting an audit to determine what is already in place in the organization and what could be integrated into the process. Based on this, an action plan can be created that aims to fill the gaps and introduce the specific performance indicators to measure each stage of the value and belief spiral. Finally, it is advisable to test each new PsychoMarketing campaign individually, because in the end, as with any other method, the market always decides.
To learn more about the PsychoMarketing method, find Stefan Lendi on the occasion of the 5th edition of the Inbound Marketing France event taking place on Tuesday 21 June 2022 (9:30 a.m. to 10:20 a.m.) at the Couvent des Jacobins in Rennes.