face to face again, Scott Taylor as guest of honor
Discover the program of the 5th edition of Inbound Marketing France.
Arthur Aballea / Published on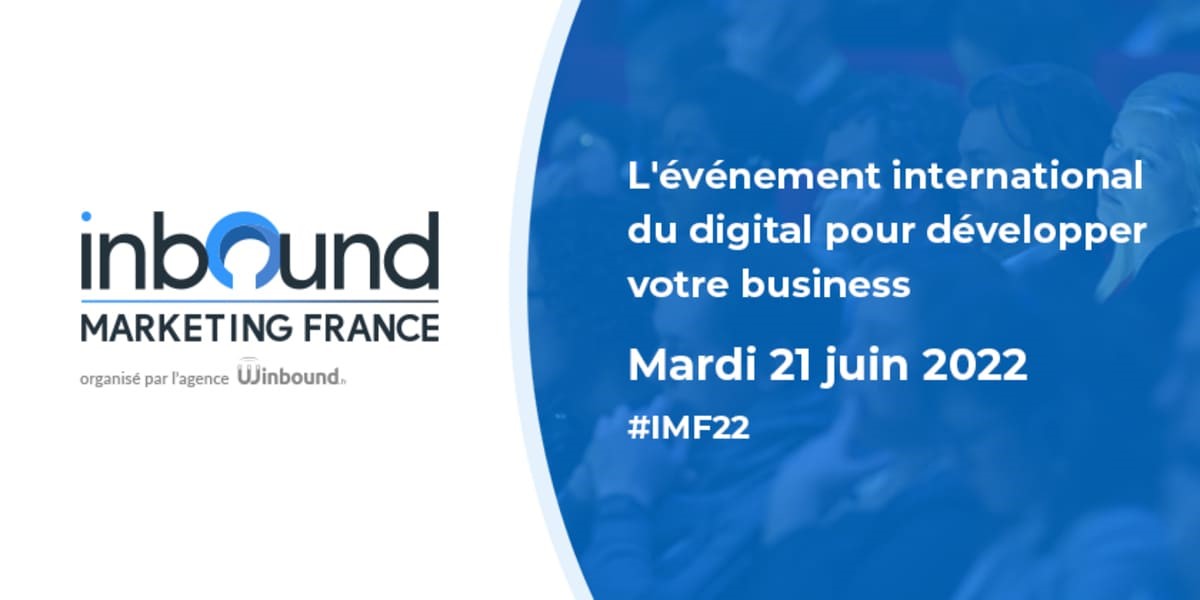 After a 2021 edition organized in a hybrid format, Inbound Marketing France returns for a 5th edition, this time taking place in person in Rennes on Tuesday 21 June. The objective of the event: to decipher the new trends in influencer marketing, social media and digital marketing, in order to provide participants with all the necessary keys to use the levers of acquisition and develop their business. Organized by the agency Winbound (MV Group), this non-profit event has become the unmissable meeting place for executives and marketing managers. Discover the program for this 2022 edition.
High profile speakers, Scott Taylor as guest of honor
Located in the heart of the Couvent des Jacobins in Rennes, 1h30 from Paris, this 2022 edition of Inbound Marketing France promises rich exchanges thanks to its numerous workshops and conferences, but above all for the quality of its speakers.
Almost fifty speakers will be present on June 21st to enliven the 30 planned conferences, masterclasses and round tables. You will therefore find several renowned guests and experts in their field, such as Stefan Lendi, Martine Le Jossec, Jonathan Chan, Heidi Vincent and many others. After Seth Godin last year, it is Scott Taylor's turn as guest of honor at Inbound Marketing France 2022.
Conferences and master classes not to be missed
The rich and varied program of IMF 2022, dedicated to data, includes 30 interventions spread throughout the day. In order to satisfy the more than 700 professionals expected, some conferences are aimed at the uninitiated audience and others at experts. We have selected for you a dozen conferences and master classes that you should not miss:
Why data management is the foundation of digital transformation: Hosted in English by Guest of Honor Scott Taylor, this conference will focus on data management and analytics as a source of business value.
Psychomarketing: aWin and retain even more customers: This conference presented by Stefan Lendi, moderator of the YouTube channel marketing strategistwill aim to shed light on brain function and the use of consumer psychology to attract and retain even more customers.
For responsible marketing and communication. Less but better: the company has everything to gain: This roundtable, moderated by Ferréole Lespinasse and Heidi Vincent, will look at conscious production and reducing social and environmental impacts.
How to Concretely and Definitely Embrace Hypergrowth Startup Marketing: Stéphane Truphème, Juliette Hervé, Caroline Minaux, Eric Legloire and Pierre Lechelle will co-host this roundtable to discuss startup marketing.
How to understand and improve customer experience in 2022 in BtoB: During this round table, Olivier Arnoux, Marine Deck and Janine Claro-Cramer explain how to create a unique moment of exchange with a client.
Are the metaverses a revolution or a simple evolution: Hear all about the arrival of the metaverse and its potential impact on businesses with Laurent Chrétien.
Omnichannel Marketing Barometer 2021 for SMEs and ETIs: Nathalie Lucas-Huriau presents the results of the 2021 Barometer and shows the keys to a personalized customer journey.
When the customer complaint moves from a camera between the brand and the customer to an ad on social media…: Fanny Reniou's master class aims to help brands maintain their image and customer relationships.
Inbound Marketing, Back to Basics: Marine Salou and Amel Salhi will share the basics of inbound marketing with some tips and customer testimonials.
Decrypt your LinkedIn profile live: During this masterclass, Bruno Fridlansky explains how to optimize his presence and digital influence on LinkedIn.
What key innovations in 2022 to take full control of your SEO strategy: Florian Ribouchon and Sylvain Peyronnet present the most effective measures that need to be activated to implement a successful SEO strategy.
Discover the complete program of Inbound Marketing France 2022