Take part in the Grand Prix of digital marketing
You have until March 11 to apply in one of the 10 categories offered. Winners will be announced at a conference on April 21st.
Alexandra Patard / Published on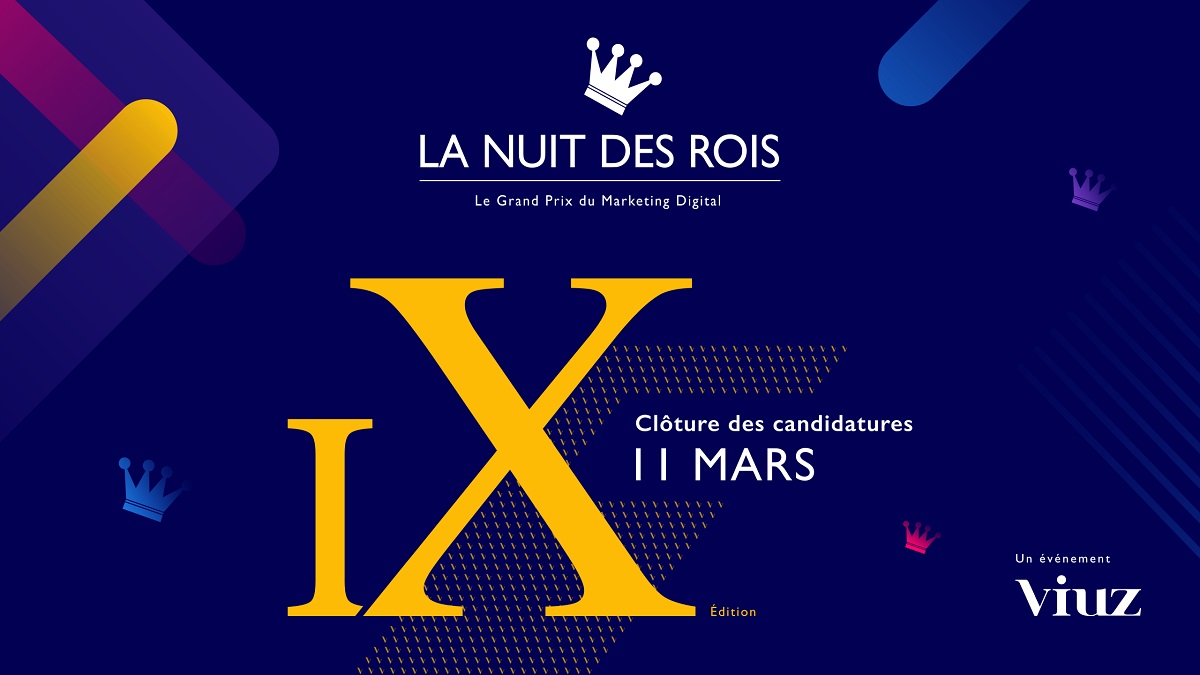 Promote the best devices and highlight talent
Are you a marketing, advertising, tech player, content specialist or innovation expert? Do you represent a brand, an agency, a management, a platform, a publisher or a medium? The Night of the Kings is open to everyone and rewards the best performing and most innovative devices in terms of digital marketing in the representative categories of the market.
The 10 categories of Twelfth Night 2022:
multichannel,
Connected Commerce and Drive-to-Store (Drive-to-Store, In-Store etc.),
Digital advertising (display, video, native, special operations, out of home etc.),
society and influence,
New experiences (VR, AR, Audio, Contactless, Blockchain, Metaverse, NFT, UX, AI…),
Corporate, HR & Institutional,
B to B,
Good & effective,
data and CRM,
Hope (new projects, startups, not necessarily a campaign).
By highlighting the best web marketing campaigns, the event aims to highlight the talent but also the exciting jobs in this sector. The list of finalists will be announced on the Viuz website at the end of March. The winners will be announced on April 21st at a conference entitled "Revelations" where you will be able to gain insight, receive feedback and discover industry trends in the presence of the event's judges. The plus: you can attend the gala dinner organized on Wednesday 18 May.
Join the Révélations conference to discover the 2022 winners
6 tips for applying for Twelfth Night
The best files will be decided by a jury made up of personalities from the digital ecosystem: advertisers, professional associations, digital marketing professions… To be selected, your campaign must have taken place at least in part in 2021 or 2022. Digital support and meet two Main criteria:
Efficiency and performance: measuring the system's impact based on significant results (leads, installs, traffic, etc.) but also more generally in terms of sales, market share, revenue growth, etc.
Creativity and innovation: by proposing a campaign with original solutions or a new idea, a new use…
Apply for Twelfth Night before March 11th
To enter, here are a series of tips you can follow to submit your application and have a chance to be among the winners of the 2022 edition of La Nuit des Rois:
Your presentation must be structured around 5 slides (possibly with the option of integrating attachments).
A customer case must be proposed as a priority (except for the Hope category).
Multiple files can be presented.
Submitting your application is free. Only the selection of a file in the final (890 euros HT) is paid for.
The presence of a video in your file is not mandatory. If you want to feature one, you can add it as a link.
It is recommended that you evangelize your speech by avoiding technical jargon and terms that are difficult to understand. Don't hesitate to insist on numbers and/or key ideas.
Find all the guidelines of the La Nuit des Rois 2022 program here.